Freshly Bloomed Spring Beverages
Reyes Family of Businesses — 3 mins read
March 22, 2023
Spring has sprung, and so has our collection of new, fresh and innovative beverages ready to be enjoyed in the sunshine. Zero sugar/lower calorie options, craft beer and clean energy - learn more about a few brands we proudly partner with and distribute below.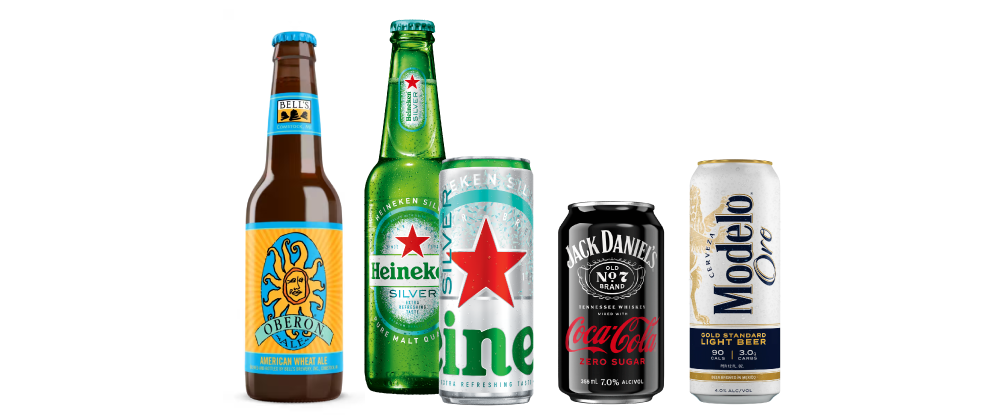 Reyes Beverage Group
Oberon Ale (5.8% ABV) is a soft wheat ale with a spicy hop character and mildly fruity aromas. First brewed in 1992 under the name Solsun, it is only available March-September as an ode to one of the biggest beer celebrations in the US occurring when spring begins. Michiganders have long considered Oberon Day the unofficial end of winter.

Heineken Silver (4% ABV and 95 calories) is brewed with an ice-cold lagering process at -1° Celsius, which eliminates the feeling of drinking a heavy beer and smooths out any bitterness in the flavor profile. Brewed with uncompromised quality by world-class brew masters, it's an easy-to-drink lager with an extra refreshing taste and light subtle finish.

Jack Daniel's Tennessee Whiskey and Coca-Cola Zero Sugar (7% ABV), inspired by the popular Jack & Coke mixed drink in a perfectly proportioned ready-to-drink canned cocktail, and now made with Coca-Cola Zero Sugar. Enjoy the crisp, refreshing, and unmistakable taste of a perfectly mixed Jack Daniel's & Coca-Cola Zero Sugar, ready to be enjoyed, on the go, and straight from the cooler.

Modelo Oro (90 Calories, 3g Carbs, and 4% ABV) is a light beer forged by the brand that has been brewing authentic cerveza since 1925. With more than 90 years of brewing experience behind its creation, this light lager is much more than a lower-calorie* Mexican beer; Modelo Oro is the gold standard of light beers delivering an exceptionally smooth, elevated taste and a crisp, clean finish.

Reyes Coca-Cola Bottling
As winter turns into spring, celebrate transformation with Coca-Cola MOVE from Coca-Cola Creations, a unique blend of bold and delicate flavors created in collaboration with musical artist Rosalía.

Dr Pepper Strawberries & Cream is a perfect balance of the classic Dr Pepper taste swirled with layers of refreshing Strawberry flavor and a smooth, creamy finish.

Indulge in the irresistible Fanta Orange flavor you know and love, now with Zero Sugar options available.

Fuel your total wellness energy with Monster Reign Storm, available in a variety of revitalizing fruit flavors.

Taste the freshness of spring with smartwater alkaline + antioxidants, formulated to boost pH balance and wellness.